Dayton Children's Hospital
Dayton, Ohio
At Dayton Children's we treat your children like they're our own – because they are. Our families live, work and play together. Our kids go to the same schools, play on the same playgrounds, and dream the same big dreams. We're parenting partners, care champions and inspiring innovators. We're Dayton Children's, and we're here for you.
How Your Dollar Helps Patients at
Dayton Children's Hospital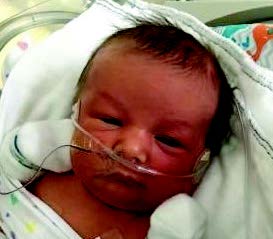 Equipment
For Kids LikeCharlie
Charlie was over 2-weeks-old before he got to meet his older siblings in person. His tracheoesophageal fistula (TEF), an abnormal connection between the esophagus and the trachea, required surgery, and because they lived far away with two other children, his parents couldn't always be by his side. Luckily there was a special camera, called NICVIEW, located above Charlie's bed, a new feature in the updated NICU space. "NCVIEW provided me with an extra sense of comfort," said his mom.
Dayton Children's Hospital located in
Dayton

, OH

Dayton Children's Hospital is a free-standing children's hospital serving over 290,000 patients every year. As a regional referral center, Dayton Children's serves a 20-county region that includes Ohio and eastern Indiana. Dayton Children's affiliation with Wright State University Boonshoft School of Medicine and accreditation by The Joint Commission on Accreditation of Health Care Organizations and Magnet® ensures patients receive the finest pediatric care available. Centers of excellence include the accredited Cancer Care program, accredited Pediatric Sleep Center, the regions only verified Level II Pediatric Trauma and Emergency Center, Level III Newborn Intensive Care Unit, Wallace Critical Care Complex and Advanced Surgery Center. With each incision we make, dose of medication we deliver and broken bone we set, we treat each child as if they were our own. At Dayton Children's, kids are number 1.
Start a Fundraiser
Help make miracles happen for local sick and injured kids in your community by creating your own fundraiser! You'll feel good knowing that your celebration or event is helping heal even the tiniest of patients.
November 7-9, 2018 | K99.1FM Cares for Kids Radiothon
Tune in and support November 7-9 for the 21st annual K99.1FM Cares for Kids Radiothon. Breakfast Club hosts, Nancy Wilson and Frye Guy will broadcast live from Dayton Children's Hospital and raise money for life-changing and life-saving equipment and technology throughout the hospital.
Give Now
Show You Care
Get a free Miracle Band to represent the more than 10 million kids who enter a Children's Miracle Network Hospital for treatment every year.
Put Your Money Where The Miracles Are